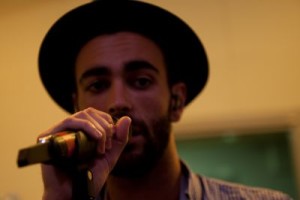 Italy finished today's rehearsals of the big 5 and the host nation Sweden. After their return in 2011 with a second place in Düsseldorf and a 9th place in Baku San Remo winner Marco Mengoni also belongs to one of the pre-contest favourites. Could he fulfill the high expectations?
Marco stands all alone on stage and makes a very relaxed impression. He is dressed in casual clothes – black sporty pants, a black & white checked shirt combined with a black leather jacket, a black hat and black sneakers. Should this be his stage outfit for the big night?
The backdrop is blue. As Marco is alone on stage the camera of course focuses only on him making lots of close-ups and only moving to the total perspective from time to time.
With the last chorus the backdrop colours get brighter and change into a mixture of red, blue and yellow. Marco starts walking over the catwalk to the satellite stage where he remains until the end of the song. His vocal performance is flawless.