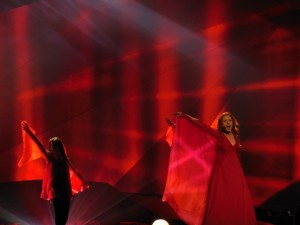 Valentina Monetta and her team from San Marino just finished their second rehearsal. In comparison to her first rehearsal there were no visible changes and Valentina delivered again a faultless rehearsal.
When the songs starts Valentina sits on the floor clasping a lamp. During this part the backdrop is dark with blue and black colours. Valentina wears a long red dress with a black cape over it.
With the beginning of the second verse Valentina stands up, leaving the lamp on the floor. The backdrop is changing into blue and red. The camera work mostly focuses on Valentina doing lots of close ups of her and her two backing dancers looking like butterflies.
As the tempo of the song changes the dancers pull away Valentina's cape revealing the whole of her red dress. Suitable for that the whole backdrop turns into red and black. The whole performance gets a little bit more energetic, also because of the use of a wind machine.
Vocally Valentina sounds close to perfection and keeps up San Marino's high hopes for a first qualification to a Eurovision final.