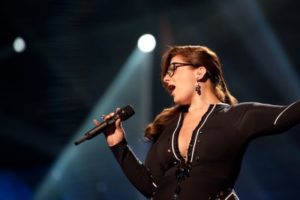 After some happy sound from Greece Moran Mazor from Israel was next to have her second rehearsal and to perform her dramatic ballad. It seemed to be another reprise of her performance of the Israeli final as well as of her first rehearsal.
The song starts with a camera close up of the piano player before switching over to Moran who is wearing the same dress she already wore in the Israeli final and in her first rehearsal. This dress has caused a lot of controversies among fans and journalists because it lets Moran appear much older than she actually is.
Moran's vocal performance is perfect again with lots of passion and energy. She seems to live the song. The backdrop fits well to this dramatic ballad as it is completely dark with dark lights.