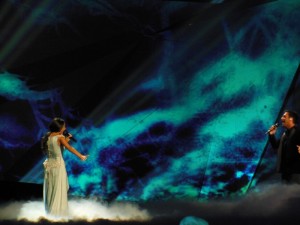 The Georgian entry Waterfalls is one of the dark horses in this year's Eurovision Song Contest. Could the duo Sopho & Nodi keep up the high expectations during their second rehearsal?
In comparison to their first rehearsal the Georgian team has not made any changes in their presentation. When the song starts Sopho and Nodi are standing with their backs to each other. On the floor there is dry ice and the backdrop is dark. Sopho wears a pale blue/silver dress while Nodi is dressed in black pants with a black suede jacket.
With the first chorus they turn and walk towards each other. On stage they are accompanied by three female backing singers, all dressed in long black dresses. The camera work does several close ups of the lead singers. Vocally both singers sound and match perfectly.
Beside the dry ice they also use pyrotechnics. With the last chorus we get to see gold rain – an effect that the Azeri duo Ell & Niki also used in Düsseldorf. Could this be an omen?