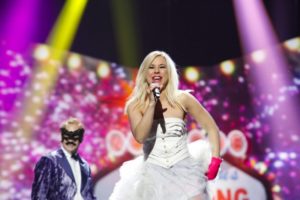 Krista wasn't exactly a blushing bride during her first rehearsal, demanding a proposal from her beloved. She was ever the professional, with a fantastically humourous stage show. Would her second rehearsal be just as fun and punchy or would her tongue in cheek performance fall flat on its face?
The staging for Finland is simple, yet spectacular. A real overdose of camp and kitch that should go down well with the viewers. A backdrop featuring a Las Vegas sign with purple fireworks behind works a treat. Krista is ready to serve her punchy proposal kitted out in the same wedding dress, but not wearing the one she has been running around the press centre creating ding dong havoc in. Her female dancers are first sporting pale purple suits with a whiff of matador about them with black eye masks. These costumes are transformed during the number to flowing pink dresses. The excitable backing singers in their slightly kinky red PVC aprons and maid outfit exude joy on stage, adding to the fun, happy vibe.
The choreography is superbly executed, from the lift of Krista into the air, picking petals from a forget me not to their jaunty dance routine – it all just gels perfectly. In the words of Krista, more is more, when a huge wedding veil is brought out and put on her head which she rips off as she launches into the final chorus. An attempt was made to use the glittery confetti in the second run through which backfired as it was released from above the stage only after the act was finished, so some confetti issues clearly needs sorting out before her semi. During the third run through pyro effects are used – fireworks from the edge of the stage and a brief pop of a shower of sparks add to the punch.
Her voice carries really well – she gives a surprisingly steady vocal, despite plenty of movement on stage. The lesbian kiss is still kept as an ending to the number, despite the subtle political message behind it. It's certainly not everyone's cup of tea, but on the basis of this three minutes of frothy, camp frivolity, there's enough gimmickery, a twinkle in Krista's eye and a killer chorus that should have people voting for it in droves.