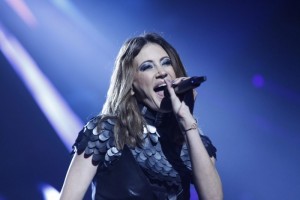 American Hannah gives us a questionable first rehearsal of her dance floor stomper Straight Into Love, with much room for improvement. Would today see her rise to the occasion?
Temptress Hannah had the honour of opening the day with her anthem Straight Into Love. The first rehearsals had seen some pretty unreliable vocals, so basically the only way is up. The staging is the same, with blue being the predominant colour on stage, blue and white angular shapes projected onto the backdrop. White beams pierce the blue, shining down onto the stage in all directions, which comes across stunning on stage.
Her three dancers are sporting the same black outfits as is Hannah herself – the black leather gladiator outfit paired with what looks like black lycra pants with see transparent panels down the side. The dancers perform a tightly coordinated dance routine lined up in front of her with her emerging from behind before they begin to throw themselves around the dance floor at breakneck speed. Hannah makes good use of the stage, confidently strutting back and forth down onto the catwalk.
Her vocals, which, let's be honest were pretty much under par on the first run through were now vastly improved, although they were still unsteady as she moves from stage to catwalk. She totally nailed the crucial long note. Vocals in general were carried throughout the hall, but with a bit too much echo at times. A satisfactory rehearsal, which should keep Slovenia in contention for a spot in the final with this energetic, pulsating opener.