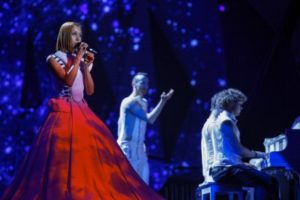 Aliona amazed us with her costume at Moldova's first rehearsal earlier this week.  With her second run through we got to see more of that dress and see what else they might have in store for us.
We liked what we saw when Moldova rehearsed on Tuesday.  The stage act was very memorable and what we saw today was almost identical to her earlier time on stage.
Pasha Parfeny was missing, but another pianist had stood in for him.  Aliona's three dancers performed their complicated dance routine to great effect amid the large amount of dry ice on stage.
The general dark staging contrasted with the projections made onto Aliona's dress.  We saw lightning bolts, volcanoes, stars, waves and other patterns.  The camera work was very flattering to the whole show and it was all very good.
We're told Aliona's hair will be different next Tuesday, but that is being kept under wraps for now. 
All in all, good things are expected from this song.`