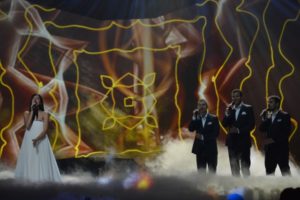 Estonia with a strong ballade. Birgit makes it shine with a beautiful vocal perfomance.
Estonia is one of the countries that sing in their native language. Birgit in a simpel beautiful whit dress, again delivers a strong vocal performance. Elegantly put on the stage she gets the song across.
Starting her perfomance on the satelite stage, where a soft wind makes her dress moving softly in the wind, lifts her ballade. Its all about her voice. The stage show is about the song and the three backingsingers are descretly standing on the right side of the stage.
Many close ups gives the viewer a good impression of Birgits very good stage presence. 
It seems like the Estonians weren´t happy with the backdrop they used in the first rehearsel. Now the patterns have changed , but they have kept the colours. Gives the song an extra lift.