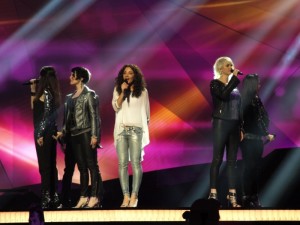 Austrias performer Natália Kelly will be the first one out next on next Tuesday. The young american-born singer did not show any signs of nervosity during todays rehearsal.
The number starts with a dark stage and the silhouette of Natália against a purple background. Natália is wearing a white top together with silver jeans. The lights slowly comes on with focus on Natália as she starts singing. There are several tall lanterns that shifts from purple into a light blue color and as the refrain comes on the lanterns are being raised up. The five backing singers are dressed in black and grey outfits and during the slow part two minutes into the song they form a circle around Natália.
It was a fine performance without any problems in all three run-throughs but it remains to be seen if the song really is strong enough to be remembered by the viewers.