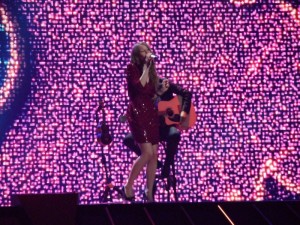 Anna Rossinelli gave a confident vocal performance of In Love For A While at the 2nd rehearsal for Switzerland.  The only problem was the background appeared not very effective.
The background included floating clouds, bubbles and sun and stars but this seemed quite dull despite all these additions.
Anna was beautifully dressed in a glittery red dress.  She was accompanied on stage by 2 male musicians.
Her vocals were perfect and Anna appeared very confident on stage.  The song is simple and melodic and could be one to watch at the first semi final.  If they could improve the background lighting then that would also considerably help.
A surprise viewer for Anna's performance was Eurovision legend, Johnny Logan.  I am sure he would have approved of her show.