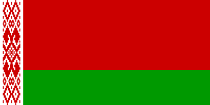 Last night's Eurovision related event was in the Belarussian Eurofest. Five lucky songs from fifteen songs have qualified for the Eurofest final, which will be held in early January.
The semifinal of the Eurofest began with the interval act of Belarussian Junior Song Contest singers Dasha Nadina, Alina Molash and Karyna Zhukovich as "Sertse Belarusi". At the end of the night five songs qualified for the final of Eurofest.
There were fifteen competitors in the semi final of the Eurofest:
1. Alex Patlis (band)
2. The Champions
3. Anna Blagova & Yuriy Vaschuk
4. Petr Elfimov
5. Gunesh
6. Venera
7. Kola (band)
8. Dakota
9. Singerin
10. Dyadya Vanya
11. Litesound feat. Dakota
12. Alexey Crechet
13. Domenika
14. Wind In The Head (band)
15. Victoria Belova
The professional jury, headed by the national artist of Belarus, Anatoly Yarmolenko, considered 15 candidates and choose 5 of them for the final. Here are the five competitors with their lucky songs who have qualified for the final of Eurofest:
1. Petr Yelfimov – Eye, That Never Lie (P. Yelfimov, V. Prokhozhy)
2. Litesound – Miracle (V. Karyakin)
3. Gunesh – Fantastic Girl (Gunesh, M. Khaitbayeva)
4. Dominica – My Day (S. Sukhomlin, A. Kostugov)
5. Wind In The Head – And-Or-And (A. Zakharik, G. Galushko)
According to BRTC, the performers will take part in the final gala-concert to be held early in January. The winner of Eurofest will be selected by via a televoting system. The performer with the highest number of votes will represent Belarus at the Eurovision Song Contest in May of 2009 in Moscow.
The finalists also will have the right to choose another composition for the final among the songs sent for the contest and selected by the jury. EuroVisionary brings you the replay of Eurofest semi final by clicking here.