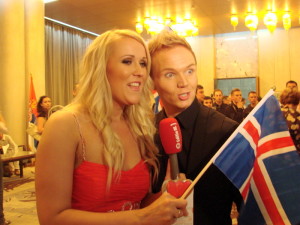 With two semi-finals it has been impossible for the Nordic countries to get together for a joined Nordic party as they often do. The only Nordic country to arrange a party this year where the Icelandic's who offered a live concert with Euroband with Simon Mathew as special guest.
Before Euroband, who represents Iceland at the 2008 Eurovision Song Contest, entered the stage the audience were listening to various Eurovision songs which surprisingly enough didn't include more than a couple of the Icelandic entries. Though a few British songs were heard the many Swedish, Norwegian and Danish entries however made it clear that you were at some kind of a Nordic party.
Should anyone be in doubt about Euroband's skills as a great Eurovision cover band then they were not at the party last night as they entertained everyone to a nice mix of previous Eurovision Song Contest entries including an Icelandic version of Bucks Fizz winning song from 1981 Making Your Mind Up.
EuroVisonary presents
Video 1 includes the first Icelandic entry Gledibankin from 1986, the Greek winning song My number One from 2005 and ABBA's legendary winner from 1974 Waterloo.
Video 2 includes the Israeli winner from 1978 A ba ni bi, the Icelandic entry from 1990 Eitt Lag En and Talking To You, the Danish entry from 2005.
Video 3 includes Gina G's Uh ah, Just A Little Bit, the Icelandic '99 entry All Out Of Luck and Charlotte Perrelli's Eurovision Song contest winner Take Me To Your Heaven.
Video 4 includes Yassou Maria, Vid sigrum af ari (We'll win next year) which is an Icelandic version of Making your mind up and an English version of Celine Dion's 1988 winner.
Video 5 includes Wild Dances and their Eurovision Song Contest entry for this year This Is My Life.
Video 6 includes Simon Mathew performing Let Me Entertain You and his 2008 entry All Night Long.