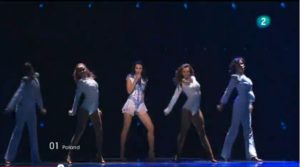 Polish national broadcaster, TVP, has announced its withdrawal from next year's Eurovision Song Contest due to the busy schedule of the corporation. TVP is one of the host broadcasters of the Euro2012 football tournament with Ukraine. Fortunately, Poland is looking for a comeback in 2013.
Among the Polish fans, there have been rumours that a withdrawal could be possible, and these came true recently. The Polish national broadcaster TVP has decided to pull out of the Eurovision Song Contest, which will be held in Baku next year.
The reason of withdrawal is shown as busy schedule of the broadcaster in 2012. TVP will have the responsibility of live coverage the Euro2012 football championship from Poland to all over the world. As the 2012 Olympic Games will be held in London next summer, TVP also will broadcast the tournament to their country.
Fortunately, TVP has also announced that it most possibly will come back to the contest again by 2013. Poland competed in the Eurovision Song Contest in 1994 for the very first time, receiving their best result with Edyta Gorniak, who achieved a respectable 2nd placing with To Nie Ja in Dublin. This promising start petered out over the following years, only twice qualifying to the final since 2004. Last year Magdelena Tul represented this country with Jestem placing at the bottom of first semi-final.