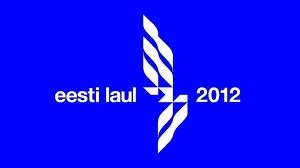 Former winners Estonia started the quest for Eurovision glory tonight, as 10 songs competed in the first of two semi-finals, in readiness for the grand final of Eesti Laul on 3 March.  How did tonight's hopefuls fare?
Estonian broadcaster ERR's television channel ETV again televised tonight's show from the Nokia Concert Hall in Tallinn.  Our host Piret Järvis welcomed us and explained how the selection would work:  five songs will proceed from tonight, and will be selected by a 50/50 mix of jury and televoting.
She would interview each act after they'd performed, wearing a differnet outfit for each one.
Onto the songs:
Janne Saar – Fight for Love (Janne Saar, Carola Madis)
– Janne's song was very dance-orientated.  She was in a black crop top and black trousers.  Her five female dancerrs were all in black tracksuits.  She wasn't quite hitting every note, but this was a good opening song.  It was all highly choreographed and got a big cheer from the crowd.
Erasmus Rotterdamist – Kuu pääle (Paul Daniel, Jürgen Rooste)
– Named after a medieval philosopher, this band took the pace down a little.  It had elements of a 1970s supergroup about it, with the heavy reliance on the drums.  The members of the band were all dressed quite distinctly, with the lead guitarists in a red military tunic.  After the brief instrumental break, the song slowed down even more.  It finished with the lead singer hitting a high note.  Not your traditional Eurovisio song, but who knows.
Mia feat. IMTB – Bon Voyage (Vahur Valgmaa)
– In contrast to the last song, this featured more choreography.  Mia was in a short cream dress with a wde black leather belt.  Once the beat kicked in, this immediately stood out.  By themiddle of the song, a male vocalist had joined in, harmonising well with Mia.  We also had a dove on stage.  This was very well performed, and tey obviously enjoyed themselves.
Milky Whip – My Love (Karl Kanter, Helina Reinjärv)
– Quirky is an apt word for this song.  Milky herself was seated on a chair with dancers as oddly dressed.  She was in a black and yellow top, and red and yellow leggings.  It had a discinctive beat to, reminiscent of Siouxsie & the Banshees.  It ended fairly suddenly.
POP Maniacs – I Don't Know (Rolf Roosalu)
– More dance rhythms here.  The Maniacs were five vocalists (two male, three female).  Fire and oil drums featured prominently, to give it a 'dark' feel.  It has the potential to be a good floor filler, although did get a little repetitive.  Again though, the crowd seemed to like it.
At this point, we were introduced to the jury, whose results would comprise 50% of the final votes for tonight.  They came from various aspects ofthe Estonian entertainment industry.
Ott Lepland – Kuula (Ott Lepland, Aapo Ilves)
– Ott alrady has a following, from his success on Eesti Otsib Suuperstaarid.  He was in a silvr-grey suit and sat at a piano to sing this hartfelt ballad – ou second song of the night in Estonian. He was joined by a girl in a long cream dress for some decent sounding harmonies.
This is one to watch.
August Hunt – Tantsulõvi (August Hunt, Keiti Kender)
– August Hunt is a five-piece band.  They were all in matching black jackets, bow ties and red trousers for this uptempo number.  It was another quirky song, testament to ERR's policy of selecting different musical styles for Eesti Laul.  It was all quite effective, but maybe just a little repetitive again.
Soundclear – A Little Soldier (Karl-Ander Reismann)
– Back to English now for a very electronic song.  The 1980s synthesiser was much in evidence.  To go with the theme of the song, the lead singer was in a military-style jacket.  It told of a soldier who had died and how it had affected his family.  For the instrumenal break, our singer gave ud a short guitar solo before the keyboards kicked in again.  For people of a certain age, it has a certain appeal.
Liis Lemsalu – Made Up My Mind (Liis Lemsalu, Rene Puura)
– Liis showed off her knee-length blue dress for this song.  A very 'cool' song with a saxophone motif.  The jazzy style would not seem out of place in a cabaret show and came across very well. 
Loss Paranoias – Valedetektor (Loss Paranoias)
– Our final song of the night was a little more contemporary.  Our female lad singer wore a 1940s hairdo.  Despite this, the song really suited her voice.  We had a lengthy guitar solo for the instrumental break which added to the appeal.  However, while this song would come across well in a modestly-sized concert hall, the Crystal Hall in Baku might be a different matter.
Now the songs had been heard Piret opened the voting lines for 15 minutes.  To fill the time, Getter Jaani entertained us with the first part of Rockefeller Street, before the broadcast was 'hijacked' for a monologue by a serious gentleman.
Several reprises of the songs also followed, along with brief chats to the members of the jury.  Then we were shown brief clips of the songs featuring in next week's second semi-final.
With the results in, the five qualifiers for the final on 3 March were in sealed envelopes.  And they were:
Loss Paranoias, Liis Lemsalu, August Hunt, Ott Lepland, and POP Maniacs.