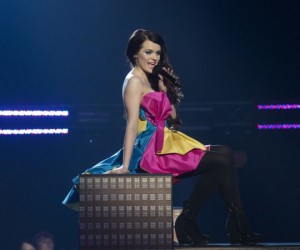 After 2 semi finals tonight was the night Estonia decided who will represent them at the 2011 Eurovision Song Contest in Dusseldorf.  Getter Jaani and Outloudz qualifed for the superfinal.  Who would take the ticket to Germany?
The show took place in the Nokia hall in Tallinn and was presented by the semi final hosts Piret Järvis and Lenna Kuurmaa, two members of Vanilla Ninja. Tonight they were joined by Ott Sepp. They explain that there will be two voting rounds. During the first round there will be a combination of 50:50 jury vote and televoting. The two acts with the highest votes proceed to the second round, where the winner will be determined by televoting. 10 candidates competed for the ticket to Düsseldorf.
The songs:
1 Ithaka Maria – Hopa'pa rei
….folk element, pyrotechnics, Ruslana
2 Rolf Roosalu – All & now
:::mainstream pop, catchy
3 Orelipoiss – Valss
:::valse in estonian
4 Getter Jaani – Rockefeller Street
:::bouncy, cheerful, catchy, uptempo
5 Jana Kask – Don't want anything
:::ballad
6 MID – Smile
:::
7 Outloudz – I wanna meet Bob Dylan
:::80s Depeche Mode, two guys contrabass
8 Mimicry – The storm
:::80s electro pop blazing costumes
9 Noorkuu – Be my Saturday night
:::boy band, high voice
10 Victoria – Baby had you
:::electro dance
The results:
So, the winning song tonight and to represent Estonia at the 2011 Eurovision Song Contest is Getter Jaani with Rockefeller Street.