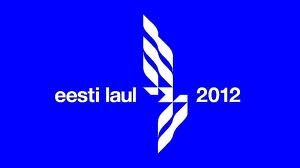 Estonian television channel ETV1 tonight selected the five acts that would complete the line-up for the final of Eesti Laul 2012 on 3 March.  What did the public of Estonia and a jury pick tonight?
Last week's semi-final picked five credible songs to vie for the opportunity to represent Estonia at the 2012 Eurovision Song Contes in Baku.  Tonight, ten songs (previewed earlier this week on Eurovisionary) competed for the remaining five births in the final.  As before, presenter Piret Järvis led us through the proceedings from the Nokia Concert Hall.  This weel she didn't change her outfit between each song.
The five lucky songs would be picked by a 50/50 mixture of voting by telephone and and a jury made up of people involved in the Estonian entertainment industry.
Tonight's songs were…
1. traFFic – NASA (Ago Teppand, Jaan Pehk) –
This was uptempo, with a sort of ska beat about it.The band all opted for the smart casual look, and looked very assured in their performance.  During the song, the lead singer interacted with the acoustic guitarist.  It's never easy to open a competition like this, but traFFic did well.
2. Lenna – Mina jään (Mihkel Raud, Lenna Kuurmaa) –
We now went downbeat and a little bit jazzy.  As she broke into the chorus, it became suddenyl all anthemic.  Maybe the long white dress didn't suit a song like this, but it still had some class to it.  It got a huge cheer from the audience when she finished.
3. Malcolm Lincoln – Bye (Robin Juhkental) –
A return to English for this modern and slightly quirky number, as only Malcolm Lincoln can do.  Lead singer Robin was dressed in a blue jacket, with the rest of the band in white shirts and black braces.  It did sound just a little familiar.  As a song, it seemed like it might make the final next weekend.
4. Tenfold Rabbit – Oblivion (Tenfold Rabbit) –
Next one was young band Tenfold Rabbit.  This was a very un-Eurovision song and made effective use of the band's instruments.  The lead singer was sat at a piano.  It got slightly repetitive as the song went on.  Maybe not a qualifier because it was too different.
5. Birgit Õigemaal & Violina – You're not alone (Mihkel Mattisen) –
Pink and black were the colours worn by the band for this song.  It was immediately catchy with a lot of emphasis with the violins, naturally.  Birgit had two backing singers (along with the three violinists) and they harmomised very well with her.  The choreography was simple but very effective.
At this half way point, we were introduced tothe expert jury, whose deliberations wuld make up 50% of the result.
6. Soul Militia – The future is now (Lauri Pihlap) –
very grown-up looking Soul Militia were all in black costumes with lines of LEDs on their jackets.  The core three members were accompanied by three backing singers (two female, one male).  The choreography was very slick, and wouldn't have looked out of place in a Justin Timberlake video.  For the song, it was OK, but didn't really seem to go anywhere.  But the crowd seemed to like it.
7. Mimicry – The destination (Paul Lepasson) –
We stayed in English for a very electro-pop number with Human League overtones.  They are essentially a two-piece band, but for tonight's performance were joined by three dancers in orange.  The whole effect was very retro, but it worked.
8. Orelipoiss – Zombi (Jaan Pehk, Olavi Ruitlane) –
Orelipoiss was joined on stage by former participant Vaiko Eplik.  He played his guitar for this very heartfelt number.  In the middle of the stage, a couple were shown sitting on a sofa watching TV.  Yet again, Eesti Laul had chosen a very un-Eurovision song.  What the viewers would make of it is another matter.
9. Teele Viira – City nights (Priit Uustulnd, Teele Viira) –
Teele's song was a more modern song.  She was i a pink top and leggings, and her four backing singers/dancers were in black and pink.  Teele had a slightly souly voice and while the song was definitey catchy, it still lacked a certain something.
10. Cat Eye – Ride (Karel Kittai, Tanel Roovik, Margaret Kelomees) –
Finally, Cat Eye took to the stage with another heavily synthesised song.  She had fourfemale drummers on stage who sang the chorus with her.  Cat Eye herself was dressed simply in black.  her delivery of the song was a little static, but it seemed to suit this song.
While the voting lines were open for 15 minutes we had the usual quick reprise of the songs.  Then we had the start of the song I wanna meet Bob Dylan by the runners-up in Eesti Laul 2011 Outloudz before we cut to an extended monologue by the same gentleman who we saw last week.
We spoke briefly to the embers of the jury as to what they liked about music. We then saw last week's successful songs which we would see again in full next week.
The five lucky finalists were announced, in no particular order, as Teele Viira, Birgit Õigemaal & Violina, Tenfold Rabbit, Lenna and traFFic.
Estonia will perform in the second half of the second semi-final of the 2012 Eurovision Song Contest in Baku on 24 May.