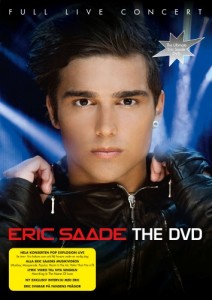 During a few weeks in March and April 2012 Eric Saade headed out on a nationwide tour in Sweden called Pop Expolosion. The last stop on the tour, Stockholm was filmed for SVT and aired on Swedish TV earlier this autumn. Today, this concert is released on a DVD, which also contains a lot of extra material.

Eric Saade began his music career in Sweden as a member of the group What's up. During his time in the group they released the two singles Go girl and If I told you once. Eric soon went on to new challenges as a solo artist and during 2009 he was for a short period of time a host on the Disney Channel.
The first single Sleepless was released was released during the autumn 2009 and the debutalbum Masquerade was released in May 2010. It was also in 2010 he got his big breakthrough in Sweden finishing third in Melodifestivalen with the song Manboy. In 2011 Eric won Melodifestivalen with the song Popular and represented Sweden in Eurovision Song Contest in Düsseldorf. He finished third which was the best result for Sweden in 12 years.
During 2011 Eric Saade released not one but two albums within the interval of six month. The albums were named Saade Vol. 1 and Saade Vol. 2, and he was the best selling artist in Sweden that year. A dream of his has been to design his own show and in 2012 he got the chance to do that. During a couple of weeks in March and April 2012 Eric Saade headed out on a tour visiting 15 Swedish cities. The concert at the last stop of the tour, Stockholm
was filmed by SVT and aired on Swedish TV on October 20th. The concert DVD relased today contains the full concert from Stockholm and exclusive extra material such as interviews and videos from behind the scenes.
See full track list below:
1.Rocket Science (Concert – Pop Explosion)
2.Fingerprints (Concert – Pop Explosion)
3.Sleepless (Concert – Pop Explosion)
4.It's Gonna Rain (Concert – Pop Explosion)
5.Hearts In The Air (Concert – Pop Explosion)
6.Imagine (feat Tone Damli)(Concert – Pop Explosion)
7.Break Of Dawn (Concert – Pop Explosion)
8.Masquerade (Concert – Pop Explosion)
9.Crashed On The Dance Floor (Concert – Pop Explosion)
10.Manboy (Concert – Pop Explosion)
11.Love Is Callin' (Concert – Pop Explosion)
12.Sky Falls Down (Concert – Pop Explosion)
13.Fell Alive (Concert – Pop Explosion)
14.Killed By A Cop (Concert – Pop Explosion)
15.Backseat (Concert – Pop Explosion)
16.Hearts In The Air (Concert – Pop Explosion) 
17.Without You I'm Nothing (Concert – Pop Explosion)
18.Popular (Concert – Pop Explosion)
19.Hotter Than Fire (Concert – Pop Explosion)
20.Sleepless (Music video)
21.Manboy (Acoustic) (Music video)
22.Masquerade (Music video)
23.Break Of Dawn (Music video)
24.It's Gonna Rain (Music video)
25.Popular (Music video)
26.Hearts In The Air (feat J-son) (Music video)
27.Hotter Than Fire (feat Dev) (Music video)
28.Marching (In The Name Of Love) (Lyric video)
29.Interview with Eric by Kodjo Akolor (Video)
30.Eric answers the fans questions (Video)
31.Eric behind the scenes (Video)