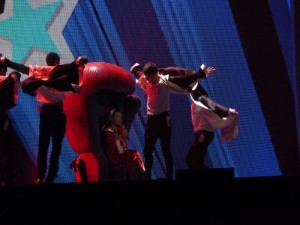 Emmy gave a confident and fun performance of Boom Boom at Armenia's 2nd rehearsal.  The whole stage show had a boxing theme with Emmy beginning sitting in a big boxing glove.
Emmy then took to the stage wearing a boxing robe and this was removed to reveal a short white dress. 
She was joined on stage by 4 male dancers also wearing boxing robes.  There was 1 girl backing vocalist.
There is a lot of movement on stage with the dancers lifting Emmy and also there is an interesting routine where the dancers make a boxing ring affect with ribbons.  Emmy is walking around the ring.
The background has lots of blue and white stars and stripes.  This adds to the colourful content of the song.