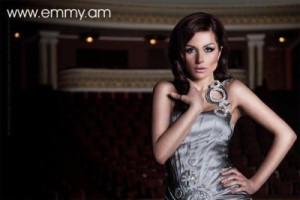 The 2011 Armenia Eurovision singer, Emmy, appeared at the Armenian Music Awards.  Also, appearing were Alexej Vorobjov from Russia and Eric Saade from Sweden who performed as special guests as part of their promo tour.
Emmy performed her Eurovision song, Boom Boom.  Emmy is very popular in her homeland and is picking up awards in several music awards shows this year including the Best Singer Of The Year at the recent Tashir Awards.
Alexej Vorobjov performed Get You and Eric Saade sang Popular.  The Eurovision acts were well received in the hall and girls were excitedly waiting to present the special guests with flowers after their performances.
There were also performances from last year's Armenian participant, Eva Rivas, and also the winner of the 2010 Junior Eurovision Song Contest,  Vladimir Arzumanyan.