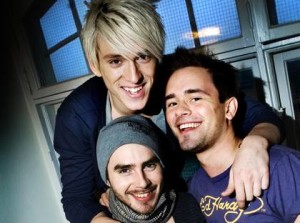 After tonight's live show aired from Leksand, E.M.D and Molly Sandén are through to the Swedish final, which will be held in the Globen arena in Stockholm on the 14th of March.
Velvet was the first artist on stage with her song, and her stage-show was like a Cinderella fairytale, her song is after all called The Queen. She starts inside a huge skirt which opens after a while and let's Velvet step out of it to join her dancers (yes, the dancers came out of the skirt as well). This did not have the energy needed to be able to fight for one of the places in the final.
Next up is Rigo feat Topaz Sound & Red Fox with their 60's Jamaican style song, I Got U. The 60's feeling is reinforced by their red suits that the guys are wearing. The stage show had a lot of energy but the question is if this came across on the TV screens.
Molly Sandén seemed to have a lot of confidence on stage even though she is only 16 years old. She really glowed and flirted with the cameras during her performance of Så vill stjärnorna. This is a really powerful ballad, but the stage show was very modest which suited the song. Molly wore a white dress and was alone on stage throughout the whole number.
E.M.D had a really good stage show that was kind of an musical act. The guys had dress suits, hats and walking sticks which reinforces the theme of the song. This is not at all how the Swedish audience is used to seeing them. It had a lot of energy and all three guys seemed to enjoy performing Baby Goodbye on stage. The audience in the arena really liked this, it was by far the best response this evening.
Mikael Rickfors does exactly what we expect from him. He sings, plays his guitar and wears a black leather jacket. Mikael had a hard time finding the cameras and Du vinner över mig does not come across at television at all.
Maja Gullstrand's jazzy number, Här för mig själv, was much too modest and anonymous. It was a little helpful that she had dancers on stage, but she would need some more energy to come across to the viewers. The song is about an ordinary day and would need a really good stage show to stand out. Just as Molly, Maja is wearing a white dress.
Sofia had one of tonight's most energetic stage-shows even though her song, Alla, is not a easygoing pop song. Do you remember the Bulgarian song "Water" from Eurovision Song Contest 2007? These two numbers resemble each other a little. Sofia wore a black leather body and high leather boots.
Last artists for the evening were BWO, and they were as always very confident on stage, and why shouldn't they? Their clothes looked a little bit like space suits and the dancers had glowing fluorescent lamps, are the choreographer inspired by Star Wars maybe? You Are Not Alone is a powerful ballad with lyrics that really touche you, and the singer, Martin Rolinski, has an ability to really connect with the viewers.
Through to the second round of voting were:
Mikael Rickfors – Du vinner över mig
Rigo feat Topaz Sound & Red Fox – I got U
Molly Sandén – Så vill stjärnorna
E.M.D – Baby Goodbye
BWO – You're Not Alone
After the second round of voting there were two duels, one between Rigo feat Topaz Sound & Red Fox and E.M.D where E.M.D prevailed, and one between BWO and Molly Sandén where Molly Sandén was the winner. This means that E.M.D and Molly Sandén are in the final whereas Rigo feat Topaz Sound & Red Fox and BWO needs to go through the Second Chance heat to be able to go to the final.
The international jury's choice tonight was Sofia with the song "Alla"