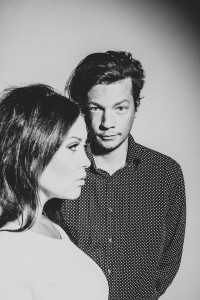 There was basically no need for the Estonians to have their national final this evening. Everyone knew beforehand that it was just a matter of how big Elina Born & Stig Rästa would win. They managed to live up to their role as favourites as they won tonight's Eesti Laul with the song Goodbye To Yesterday.
20 acts competed in two semi-finals. Half of them made it to the national final. With polls showing Elina Born & Stig Rästa to get over 70% of the votes everyone however considered it a done deal: They would represent Estonia at the 2015 Eurovision Song Contest.
The songs: 
1. Luisa Värk – Minu Päike
We have a playground on stage. Luisa, dressed in a knee length yellow dress, swings while she has three backing singers next to her. During the song she stands up and walk around, but returns to the swing near the end. Luisa is the girl next door and this is a sweet adorable pop song which it is easy to love and very hard to have anything against. 
2. Maia Vahtramäe – Üle Vesihalli Taeva
Three backing singers stand to the side of the stage putting all focus on Maia. There is smoke throughout the entire performance of this quiet ballad, which is sung in Estonian, which suits it, and it becomes a bit elvish. Maia is dressed in a long light rosa coloured dress in an old fashion style. There is no interaction between Maia and her backing singers.  
3. Elina Born & Stig Rästa – Goodbye To Yesterday
A quiet beautiful song, that is what Elina and Stig brings us. They are just the two of them on stage, Stig with a guitar. Elina starts being quite far behind Stig, but then she moves forward to them standing about two metres from each other with each their microphones. The performance is kept entirely in black and white and while he is stylish in a suit, she is more casual. It suits the entry that they can actually see each other this time compared to the semi-final performance.
4. Kali Briis Band – Idiot
Welcome to a very confusing song. A band with 5 members are on stage. It is a song which includes elements from electronic music, dance and pop. We have two leadsingers, a male and a female, and then we have a keyboard player who handles spoken parts of the song via a voice moderator. They have plenty of energy on stage in terms of a drummer suddenly standing up on his seat at the drumkit and the remaining band breaking into an uncontrollable dance from time to time. 
5. Robin Juhkental & The Big Bangers – Troubles 
With him on stage Robin has a trombone player, a trumpet player, a keyboard player, a drummer and a double bass player and Robin interacts a lot with them and the camera as well. It is a pop song with clear jazz elements and it actually sounds quite nice. Biggest problem is that Robin's arrogance won't appeal to everyone. He himself is dressed in a grey jacket over a black shirt and black trousers. Strangly enough there is a small plant at the keyboard, which may be some kind of lukcy plant as we also saw the keyboard player with it during the interview.
6. Daniel Levi – Burning Lights
Leadsinger Daniel has a band to back him up on stage on this energetic rock song. The band does a good job and Daniel himself is good in giving them space to unfold. Daniel connects very well with the audience and the TV cameras, and all in all, this is a good performance, and surely his good look will attracts some votes as well from the teenage girls. Daniel is dressed casually in a white t-shirt and jeans and he has an electric guitar which he gets rid of half way into it. Near the end of the song Daniel dives into the audience who carries him around. He ends laying on the hands of the audience.
7. Elisa Kolk – Superlove  
Up here is a pop ballad performed by Elisa who appears very confident on stage. She starts being lifted down to stage from a swing in the cealing. She has four backing singers and a piano player with her on stage, but none of them steals focus from Elisa, and she doesn't interact with them either. A nice song, which most will like, and very few dislike, but will people remember to vote for it? That's the danger with these entries. Elisa is dressed in a long dress with big open slides at the front.
8. The Blurry Lane – Exceptional
A saxophone player starts this song. As he moves the female leadsinger is revealed. She is dressed in a black leather skirt and an orange top. With her on stage are also something as rare as a female drummer, a keyboard player og two playing guitars, the latters are the only ones sparkling this jazzy pop song up as the singer stands very still. Smoke on the ground is added near the end of this performance. All on stage is wearing matching clothes. Simple, yet nice, and that counts for both song and appearance.
9. Elephants From Neptune – Unriddle Me 
We continue with a heavy rock song. The band gives a performance in a classic rock line up, leather jackets and flashing lights and pyrotechnics. It is a great performance and what you expect from a rock song, you get here. Only problem is just that the song somehow is missing a bit. You can't really sing a long to it, something that might be a problem for a Eurovision Song Contest entry.
10. Triin Niitoja & John4 – This Is Our Choice
On stage here we have two singers, a female and a male and to back them up we have a banjo, a keytar, a mandolin player and a drummer. It is a fun and flirty pop song which shows a fantastic chemistry between the singers. The female singer Triin is quite flirty, but nearly as much tonight as in the semi-final. John4 was displayed with big letters on stage. She was wearing a light dress and he in a dark casual suit.
The show:
Tonight's national final kicked off at 20:35 CET live from the Nokia Concert Hall in Tallinn, the capital of Estonia. It kicked off with a performance from last year's Estonian representative Tanja singing her entry Amazing in a remix edition. After that all the competitors were presented, and then we were ready to go. After their performances each of the acts are interviewed just as they get of stage. 
As the first round of voting had started we were treated with a performance from Tartu Popi ja Roki Instituut.  
The voting:
As in the two semi-finals Estonia used the well known system with a 50/50 jury and televoting procedure, but only to select the three of the ten acts for the superfinal. After the first round of voting the jury is dismissed and it will only be televoting deciding the winner.
The jury points were given as the voting window was still open for the public. They awarded points 1-10, meaning not in the usual Eurovision style. The jury points can be seen in the image below.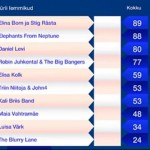 The TV viewers however didn't like the rock from Elephants From Neptune. They changed the result so Elisa Kolk made it to the second voting instead. The tree qualifiers for the superfinal were then:
Daniel Levy
Elisa Kolk
Elina Born & Stig Rästa 
Overall result:
3. Elisa Kolk
2. Daniel Levy
1. Elina Born & Stig Rästa  
Estonia at the Eurovision Song Contest:  
We saw the first Estonian Eurovision entry in 1994 where Silvi Vrait went to Ireland. Unfortunately she only scored 2 points, but things have changed. The country has finished in top10 a total of eight times, and won once, in 2001 where Tanel Padar & Dave Benton destroyed what otherwise looked to be a double victory for Denmark.
Last year Estonia was represented by Tanja and the song Amazing, which failed to qualify for the final. 
Below you can see a performance of this year's Estonian winner, but from the semi-final.