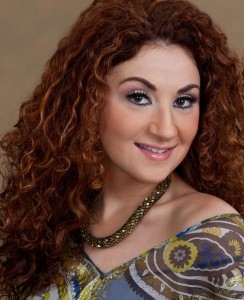 Eleanor Cassar will sing 'Choices' in the Malta Eurosong on 20 February 2010. Eleanor is a popular and established performer in Malta. She has participated in many previous national selections in Malta and has been successful abroad in various song festivals. Eleanor speaks to EuroVisionary.
Hi Eleanor, congratulations on making it to the Malta Eurosong final again this year. Could you tell us something about your song this year?
'Choices' is a powerful pop-rock song by Paul Giordimaina / Fleur Balzan, in which I can use the energy of my voice and transmit it to the people. It has positive lyrics about the choices that we all have to do from time to time in our lives.
What promotion do you have planned for your song on tv and radio before the contest?
Since the festival is organized by the PBS, they will give us promotion on various TV stations. We have to stick to what they offer us and cannot do self promoting of the song in Malta.
You have sang many times in the Malta national selection. Do you have a favourite song of your's from your previous participation?
It`s difficult to choose just one. Every song has its own emotions and reminds me of a unique experience. I had both ballads and up-tempo songs but I like all of them as I'm quite comfortable to sing them.
You have participated in many song festivals around the world. Could you tell us a little about those experiences and some of the countries that you have participated?
Thanks to Paul and Fleur I have had many opportunities to perform abroad.
In 2004 I won the Golden Stag Festival – Romania. This was a memorable experience and it was so nice to win such a prestigious festival. I have also been in Bulgaria, Astana, Tenerife and Shanghai, where I managed to represent with honour my country, Malta, and achieve good results.
You can find more info in my biography at www.eleanorcassar.com
Do you have a favourite song from the Eurovision Song Contest in previous years?
2006 'Everything' by Anna Vissi
2007 'Molitva' by Marija Serifovic
2009 'Is it True?' by Yohanna
Who are your musical influences?
I like Celine Dion, I like her style, her music, her voice and performances. As regards music I like to listen to soul, funk and rock music
Do you have plans for an album release this year? If so, where can our reader buy a copy?
I have just released my latest album 'Signify' on 8 February. It includes a collection of songs that have characterised my musical path during these last years (songs for the Malta Eurosong finals, foreign festivals and others). It also includes the new title track 'Signify'.
Anyone interested in my album can buy it from my website www.eleanorcassar.com
What question that I have not asked would you like to ask yourself and what would your answer be?
I can't think of anything right now but if you have any more questions you would like to ask please feel free to contact me anytime.
Thank you, Eleanor. Lots of luck at the Eurosong.