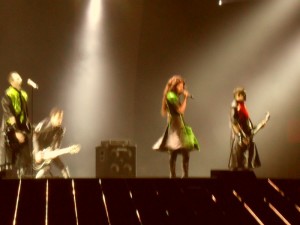 The traditional Barbara Dex Award,which is given to the worst dressed performer at the Eurovision Song Contest, has been held for the 15th time. Eldrine from Georgia won this year's award and Irish twins, Jedward, came second.
The Barbara Dex Award is the annual award of the Eurovision Song Contest which is given to the worst dress of the show. The award is named after Barbara Dex, who was chosen by the fans as the worst dressed participant at the 1993 Eurovision Song Contest.
The voting is based on the Eurovision Song Contest; from 1-8, then 10 and 12 points for the worst dressed act. The procedure has been carryied out by the fans who visit the offical website of the Barbara Dex Awards.
This year, the contest resulted with the Georgian band, Eldrine's win. The Irish twins, Jedward came second and they followed by Zdob şi Zdub (Moldova) and Yüksek Sadakat (Turkey).
1.    Eldrine (Georgia), 133
2.    Jedward (Ireland), 81
3.    Zdob si Zdub (Moldova), 66
4.    Yüksek Sadakat (Turkey), 61
5.    Homens da Luta (Portugal), 59
6.    Kati Wolf (Hungary), 56
7.    Aurela Gaçe (Albania), 45
8.    Daria Kinzer (Croatia), 31
9.    Maja Keuc (Slovenia), 28
10.    Dana International (Israel), 21 
Links