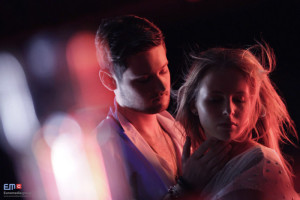 The winner of the 2011 Eurovision Song Contest (with Nigar Jamal) and one of the hosts for the 2012 Eurovision in Baku, Eldar Gasimov has released his first solo single called I Am Free.  He has also released a promotional video to accompany the song.
Eldar won the 2011 Eurovision Song Contest together with Nigar Jamal with Running Scared.  Nigar (Nikki) released her debut solo album recently.  Now is the time for Eldar to show us his solo music.
I Am Free is a passionate and emotional story about someone who has become free of previous commitments of love and lifestyle.
Eldar now wants to move on from the great success of 2011 and show his creativity of his solo music and performance.
The song was co-written by Eldar with DJ Aligee and the Azerlife Music Entertainment team.  The sound producer is Rasif Babayev and the sound producer is Farid Mamedov.
The music video was filmed in Kiev, Ukraine and organised by the Euromedia Group production team.  The video concept was designed by Denis Gamzinov and Dmitry Peretrutov who have worked on music videos for Ani Lorak and Ruslana.
You can see the video for I Am Free below.