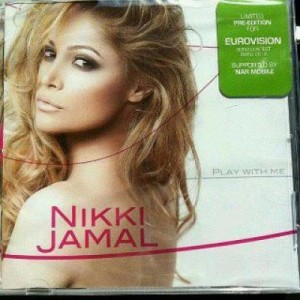 The debut album of half of Azerbaijan's winning duo includes her hit Crush On You and, of course, the Eurovision entry Running Scared in a duet with Eldar. But this is not the only duet on the album because it also contains tracks sung with another former winner and a participant from Dansk Melodi Grand Prix
Azerbaijani representative at the 2011 Eurovision Song Contest, Nikki Jamal has released her anticipated debut album called Play With Me. Alongside Eldar Qasimov, she won the 2011 Eurovision Song Contest with the song Running Scared which is one of the album tracks that also features a duet with the 2008 Eurovision winner Russian Dima Bilan entitled Come Into My World.
The album also includes the song Universe written by Lise Cabble, Simon Borch and Boe Larsen, the same song that Karen Viuff sang when she participated in this year's Dansk Melodi Grand Prix. Everything started when Nikki met Karen when she was one of the international juries in order to choose the best Danish song and, despite Universe not getting far enough in the national selection, Karen and Nikki are now teamed up for a triumphant duet.
Play With Me contains a total of eleven tracks including Crush On You written by popular Azerbaijani composer Isa Melikov which was the first single of the album. Most of the songs have a good beat punctuated with an electronic hook but it neither offers much in the way of innovation.
You can see the full track listing below:
1. Play With Me
2. One With The Music
3. Skindeep
4. Running Scared (feat. Ell)
5. Priceless
6. Crush On You
7. Come Into My World (feat. Dima Bilan)
8. Universe (feat. Karen Viuff)
9. Can't Let You Go
10. Show Me
11. When I'm With You
The snippets of the songs are available to listen to online and you can download the entire album in digital stores. Below you can watch the official video clip of Universe with Karen Viuff.