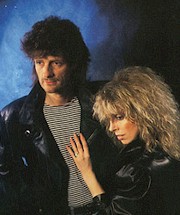 The annoucement of Laban reuniting has been turned down by Ivan Pedersen. Two 20 year old girls made up a story that made it to most Danish medias. Lecia says that she would actually have liked it to be true, but Ivan does not want to reunite the popular duo 20 years after they split up.
The two girls who describe themselves as Laban fans says that it was a joke that went a bit out of hand as various medias started bringing the story. Ivan Pedersen and Lecia Jønsson are not planning to take any legal actions against the two girls as they believe that they were not aware of the consequences by publishing such a story on the internet.
EuroVisionary's report when the story was believed be true:
The Danish duo Laban has decided to get back together again, 20 years
after they went each their way. Ivan Pedersen and Lecia Jønsson who
have participated many times in Danish finals say that the new album
will be true 80's pop and include new songs as well as a few,
rerecorded, big hits.
Lecia Jønsson and Ivan Pedersen have been on stage in the Dansk Melodi Grand Prix a number of times, both solo and for Lecia together with her sister Lucienne as well and Ivan together with his first band McKinley's. Ivan Pedersen has also written a lot of songs for other participants, but none of them have won.
Both Lecia and Ivan have had success after the band split up in the late '80's and won several awards for their music, but they will for always be connected to Laban, who achieved big success in Denmark as well as abroad. Their music was released in 37 countries and aside from the surrounding European countries they also made it to the charts in the USA, South America and Asia.
The new album which will be released 1st of August has been given the title "Wistfully at something" and will include mainly new material, but also a few new recordings of some of their biggest hits. Ivan Pedersen says about the new album: "Now we go back and make the simple and classic pop as people knows it from the old '80's. This will be true Laban, although in a more adult version there will still be high speed."
Below you can hear two of their biggest hits:
"Hvor skal vi sove I nat?" (Where should we sleep tonight) was their debut in Denmark and sold more than 1 million copies. It is a cover version of the Italian hit Sarà perché ti amo.
Love in Siberia became their biggest international hit with 6 weeks on the American billboard chart. Ivan himself wrote the song.
In my view
Personally I am very much looking forward to this new album! I hope for a follow up tour to be announced soon. With Laban reunited next must be Kirsten & Søren (Hoteyes)!

The opinion expressed in "In my view" are those of the author and are not necessarily the one of EuroVisionary.com.