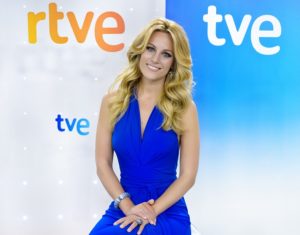 The Spanish broadcaster TVE has internally selected popular singer Edurne to represent them at the 2015 Eurovision Song Contest. The entry that she will perform in Vienna has already been chosen and its title will be Amanecer, which means Dawn.
Much has been speculated in recent days in the Spanish media about who would represent Spain in Vienna but, among all the names that were in the polls, Edurne sounded very strong especially since she announced she was leaving the television program she presented to work in an international new musical project.
Broadcaster TVE has finally revealed that they want to bet again for a popular singer and it has been officially announced today in a special press conference that the artist who will fly the Spanish flag in Vienna will be Edurne. She said she is very excited and she is currently working on her Eurovision entry, Amanecer, which has been written by Tony Sánchez-Ohlsson, Thomas G:son and Peter Boström.
She said that she has been eager for some time to represent Spain at the Eurovision Song Contest but she did not do it before because she had not found the right song. This year, when she listened to Amanecer, she made the decision because she thinks that it is a kind of song that has nothing to do with the previous Spanish Eurovision entries.
"I want to thank TVE for trusting me. I am very happy and looking forward to the 23rd of May. It is the most important thing that has happened in my musical career and it is a great challenge and a big responsibility so I am working with the best team", she stated.
Edurne has not revealed much about the song but she has said that "it is a quality pop song".
Alongside Edurne, at the special press conference was Ignacio Gómez-Acebo, director of strategy and programming of TVE who said that the broadcaster has found the right combination for the 2015 Eurovision Song Contest. He stated that "the song and Edurne are perfect".
TVE has also confirmed something that has greatly pleased all the Spanish Eurovision fans as this year they will broadcast live both Eurovision semifinals instead of just the one where Spain has to vote as it has been in recent years.
Edurne, meanwhile, has stated that she is very excited with this new challenge which is the most important of her career and she expects to achieve at great position on the scoreboard. She is convinced that her song will "make a difference" and she has revealed that she will sing it in the Spanish language.
Edurne was born in Madrid in 1985 and she has been working in the music business since she was nine years old as part of the children band called Trastos. However, she shot to fame in 2005 when she participated at the talent show Operación Triunfo. Since then, she has released five studio albums and she has worked for seven years as an actress at the Spanish version of the musical Grease. She has participated at other talent shows such as Strictly Come Dancing where she was the runner up or Your Face Sounds Familiar where she was the winner.
Below you can watch Edurne's official video of her latest single, Painkiller.