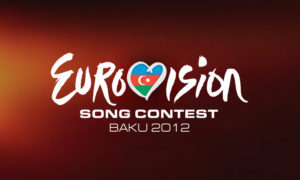 On the countdown to the 57th Eurovision Song Contest, EBU, the European Broadcasting Union delegation, visit next year's host country, Azerbaijan. The delegation made some investigations prior to the contest and also had a meeting with the coming host broadcaster, İçtimai TV.
As the official Azeri broadcaster İçtimai TV will co-ordinate the broadcasting of 2012 Eurovision Song Contest, which will be held in Baku, EBU delegation and İçtimai TV authorities held a meeting to look at the latest situation. EBU's executive supervisor Jan Ola Sand and the event supervisor Sietse Bakker came together with general director of the TV channel, İsmail Omarov. According to İçtimai Tv's official website, the main topics for this meeting were technical issues, tickets, competing members and the venue.
Although there will be built a new venue for the Eurovision Song Contest, it is declared that there also should be a "B plan" for any setback with the construction of the arena. "If the show will be held in the newly built place, then there is a need in reserve option B. If, for any reason there will be a delay, or some other obstacle, then there must be an alternative option", Sietse Bakker said to the Azeri media after the meeting about the venue.
The other topic was the tickets. It's told by Jan Ola Sand that the tickets will be available possibly at the end of this year and that prices would be very affordable according to past events. He also added that "this event is not just for those in a good social position, but also for ordinary people. Everything will be taken into account in advance".
As the preparations for the 2012 Eurovision Song Contest has already started there are however still a few question-marks when it comes to participating countries:
The political issues between Azerbaijan and Armenia makes Armenia doubt their own safety in the neighbour country. Azerbaijan have confirmed the security of the Armenian participant at the meeting, however the Armenian Head Of Delegation Qoar Qasparyan is still saying that they have doubts regarding the country's participation in Azerbaijan. 
The exact dates of the contest collides with a religious day in Israel, which made the Israeli delegations say that they might not participate next year. They also added that an open border with another Muslim country, Iran, would impose major security difficulties and limitations, but at this meeting the Azerbaijani delegation confirmed all the responsibilities once again. IBA chairman also told the Israeli national media: "We have security problems everywhere, but as long as we are willing and invited to participate in the contest – we will do so and the IBA will make the biggest effort to send an entry, the public in Israel will be proud of."
If you want to read full story in Azeri language, you can also visit the official page of İçtimai TV.