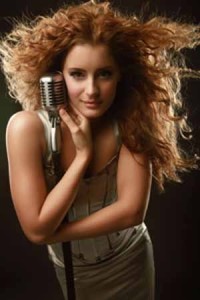 Rumours points at Atiye Deniz to represent Turkey at the Eurovision Song Contest next year. In that case she would be picked internally by the Turkish broadcaster, TRT. First she will be trying to win the award as best Turkish act over Hadise and Mor ve Ötesi.
The annual poll for people to suggest candidates for Turkish broadcaster is open, but according to Eurovisiondream, one of corporation's official webportals, then the TRT is about to offer pop singer Atiye to represent the country at the 2012 Eurovision Song Contest. It is also mentioned that names who are working for Atiye has confirmed this progress.
TRT has not released any official information yet, but it is known that they are willing to confirm the name of their representative on New Years Eve as in the last two years.
Atiye (Atiye Deniz) is one of the most popular solo singers in Turkey. Just like Hadise, who represented the country at the 2009 Eurovision Song Contest with Düm Tek Tek, Atiye is also strongly connected to Western Europe. The 23 years old young talent was born in Bremen, Germany. She continued her education in Germany, USA, The Netherlands and France and she speaks several European languages.
She released her first album Gözyaşlarım at the age of 19, which and awarded the Best New Artist in 2007. This album contained songs in English as well as Turkish. The album also reached to Europlay Top 100 list. She also also released:
Atiye (2009)
Budur (2011)
Other awards:
Kral TV, The best new artist – 2007
MTV EMA, Best Turkish Act nominee – 2009
Siyaset Dergisi, The Duet of the Year (Atiye feat. Teoman – Kal) – 2009
Radio Bosphours, The Best Song (Salla) – 2010
Aslan Max Awards, The Best Female Act & The Best Song (Salla) – 2010
Altın Kelebek Music Awards, The Best New Artist – 2010
TRT Music Awards, The Best Female Act nominee – 2011
Atiye is also nominated for MTV EMA 2011 as the Best Turkish Act. Here she is in competition with former Turkish representatives names such as Hadise and Mor ve Ötesi.
Below you can watch three of her most popular songs: Salla(2009), Kal(2009) and Batum Türküsü(2011).
Links