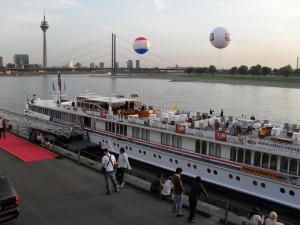 Yesterday some of us had the honour and the pleasure to be invited to the Dutch party. The Dutch broadcaster TROS chose a very special location for this event. The party was held on the very noble 5 star ship Royal Crown at the bank of the river Rhine.
The party started at 21:00. To enter the ship everyone had to walk a very precipitous bridge down which connected the ship with the bank. Especially women had problems to walk down and mostly had to hold themselves at the balustrade. Some even took off their shoes and walked down barefoot.
Due to the very good and warm weather in Düsseldorf it was possible to stage the whole party at the upper deck. Those who liked could start the evening by drinking a glass of Prosecco. As soon as the sun went down a problem occured – a mixture of moths and mosquitos also wanted to celebrate inspite of not being invited. They were quite penetrating because a covey of them always flew around someone's head, sometimes even straight into the face. But just as the official programme started the battle with the insects was finished. It seems they do not like loud music.
First to perform on stage was of course the Dutch band 3J's who gave a very good performance of their entry Never alone. The crowd liked this a lot and so the party continued with a huge enthusiasm among the guests. Beside the Dutch representatives we had the pleasure to see performances of Albania, Belarus, Bulgaria, Croatia, Finland, FYROM, Greece, Latvia, Poland, Romania, Russia, Slovenia, Switzerland and Turkey. Beside their Eurovision entry some artists sang other songs as well, e.g. cover versions or own songs, such as the Latvian group did. The Turkish band Yüksek Sadakat delighted us with a fabulous accoustic version of their entry Live it up. At anytime there was a fantastic atmosphere on the boat and everybody was singing along, dancing and just celebrating. Several people watched the event from the "Rheinterrassen" at the bank of the river.
At 23:00 we got a special surprise – a firework, mainly in the Dutch colours blue, white and red with playing the Eurovision anthem in the background, followed again by the Dutch entry.
During the whole evening Dutch specialities were offered by women in traditional Dutch costumes. So we also had the opportunity to taste Dutch cheese, Matjes with onions and special canapés with fish.
The Dutch party – definitely one to remember!
Photos and videos will be uploaded later to the site.