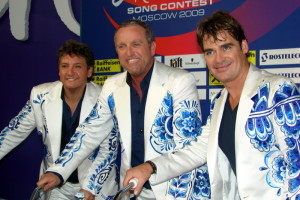 It didn't take long before the Dutch medias started discussing who should try to do what has failed for Glennis Grace, Treble, Edsilia Rombley, Hind and now also De Toppers: bring the Netherlands into the Eurovision Song Contest final.
The Netherlands hasn't been in the final of the Eurovision Song Contest since 2004, where just one semi-final existed as 15 countries were automatically qualified for the final. The lack of success has led them to try various formats as well as singers in very different genres. De Toppers is a big name on home ground, but they didn't manage to shine through to the hundreds of millions potential televoters around Europe. The reasons for opening the discussion about potential names for 2010 already now are many, but so are the downfalls.  It might give plenty of time to make sure that the right names are being talked about and it might take focus away from De Toppers so they can arrive back to the Netherlands quietly without being met with blame, but such an early discussing can backfire with the right names seeing it as something hypothetical out in the future and therefore not contributing to a good, sober and realistic discussion that can lead to the Netherlands finding that one act – or those names that can make a good national final.
 
Aside from 2007 where three names competed with three songs each The Netherlands hasn't had a national final, as we know it from many other countries, with different names to choose from since 2006 – and with a new broadcaster taking over for 2010 it is unknown which format they will want to try.  The medias are mentioning Frans Bauer, who was also mentioned as a possible new member of De Toppers when Gerard Joling left the trio shortly before the selection of songs for the 2009 Eurovision Song Contest started, as a possibility. Other well established names such as Nick & Simon and Ilse DeLange have been mentioned as well.