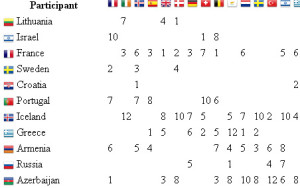 The Dutch national broadcaster TROS, has announced the results of the jury and televoting results. Although Norway is the jury favourite and gets the 12 points in the combined results, Turkey was the fans favourite.
TROS, the broadcaster of Netherlands at Eurovision Song Contest, has also announced the jurors names who voted in the final show in this year's contest as well. These names are: Noordje Kandt (former Dutch Head of Delegation), Martin Gijzemijter (composer and lyricist), Setske Mostaert (vocal coach), Aron van der
Ploeg (creative producer) and Henk Schepers (manager of the Dutch
Metropole Orchestra).
And the jury of NPO voted as:
Malta – 1 point
Israel – 2 points
Albania – 3 points
United Kingdom – 4 points
Denmark – 5 points
Germany – 6 points
Azerbaijan – 7 points
Iceland – 8 points
France – 10 points
Norway – 12 points
This could make the difference with the jury and televoting results and the fans (televoting) results are:
Estonia – 1 point
France – 2 points
United Kingdom – 3 points
Iceland – 4 points
Greece – 5 points
Azerbaijan – 6 points
Bosnia and Herzegovina – 7 points
Norway – 8 points
Armenia 10 points
Turkey – 12 points
The combined results are:
Greece – 1 point
Germany – 2 points
United Kingdom – 3 points
Bosnia and Herzegovina – 4 points
Armenia – 5 points
France – 6 points
Iceland – 7 points
Turkey – 8 points
Azerbaijan – 10 points
Norway – 12 points