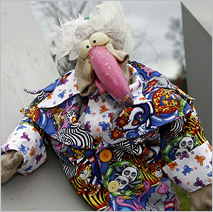 Dervish failed to make the Irish Top 50 chart last year because their single was released free to download on RTE's site making it ineligible for the chart but there is no such fear of the same happening this year as Dustin the Turkey has gone straight in at #5.
This is Dustin's first week in the Irish singles chart and it will be no surprise if he goes to number 1 next week considering the amount of publicity he is getting on RTE's television and radio stations. If he succeeds at topping the chart he will be the first Eurovision entry to do so since 2004 when Chris Doran went to the top spot with 'If my world stopped turning' after the extremely popular 'You're a Star' series.
The chart positions in Ireland are calculated by taking into account both physical single sales and download sales. Dustin's song is available both in physical form from most major Irish music stores and on itunes and nokia music store as a mp3 download.