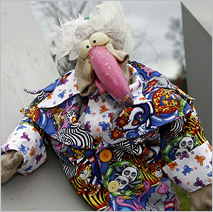 Dustin was continuing his promotion of the 2008 Irish Eurovision Song Contest entry today. He talked with Derek Mooney on Ireland's national radio station RTE Radio 1 this afternoon.
The primary motive for Dustin guesting on the show was to plug the nationwide release of his Eurovision single 'Irelande Douze Pointe'. The song has been available for download on the Nokia Music store since the beginning of this week. It will be available in CD form in all major music stores from tomorrow the 18th of April. Tomorrow also sees its release on iTunes online store aswell.
Apart from the CD they also spoke about his chances of winning. Dustin said "I don't think they're as good as Paddy Power (Bookmaker) think". The puppet told Derek that there might be "a hall free in Roscommon (rural Irish area)" to be the 2009 venue if he manages to win the contest. The subject of his closest opposition also arose and Dustin was informed by Derek that he should fear the Ukrainian entry because the show's Eurovision expert Paul G. Sheridan was of the opinion that it was a likely winner. Dustin replied that he may well be visiting Ukraine before the contest in May.
They also spoke of Dustin's webchat on RTE's website tomorrow afternoon. It is supposed to begin at 1.00pm (local time) and anyone can submit questions for Dustin at this link:
http://www.rte.ie/tv/eurovision/webchat.html
Derek also quizzed the vulture turkey on his interview on Spanish station La Sexta a while back. Dustin told that "I hadn't a clue what they were saying" and "we had a ball". Speaking about his relationship with Rodolfo Chikilicuatre Dustin said "we've sorta got into bed together" and went on to say that "They'll give us their 12 points and we give them ours". So it looks as if Dustin is trying to build links with the other bewildered Eurovision elders.
Links