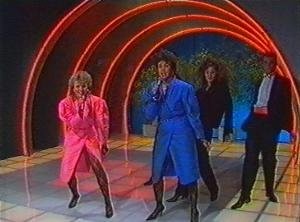 To please a request from many fans DR is now putting all the past Danish finals, they have in their archive, up on the internet in its full length. If you are one of those who don't already have it all on videotape the 29th of February is the date to mark in your calendar.
Just like many other broadcasters DR is in the situation that in the 50's and 60's tapes were expensive and no one thought about that fans, 50 years later would want to see these shows, therefore they do not have them all in their archive as they were re-used. But it is believed that they at least have all the Dansk Melodi Grand Prix's since 1978 when Denmark rejoined the Eurovision Song Contest after having been out since 1966. It is all these shows which DR will now put up on the internet in full length.
DR has created the site Bonanza where they show older TV programs for those nostalgic ones wants to see the TV programs they remember from their childhood or for the younger ones clips and programs they have heard about, but never seen. As that site was launched they had a poll asking the Danes what they wanted the most to see. Melodi Grand Prix recived so many votes that all the older ones are now being added to the site. The same goes for the music show Eldorado with Jørgen de Mylius as host. For many years he was also hosting the Danish final plus being the Danish commentator at the Eurovision Song Contest.
Let's hope that this becomes a success that will lead to many other broadcasters doing the same thing with their old national finals.
In my view
My videotapes have been seen so many times that the picture and soundquality now is very poor. This will give me the oppertunity to see them all in good quality – and I can hardly wait.

Thumbs up for DR!   

The opinion expressed in "In my view" are those of the author and are not necessarily the one of EuroVisionary.com.