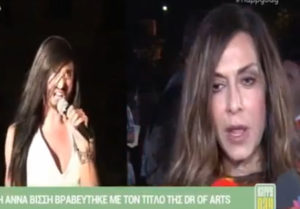 This Wednesday, three-time Eurovision entrant Anna Vissi received an honorary doctorate from the University of Bolton. After the ceremony, Cypriot-born Vissi commented on her upcoming celebratory concert on Mykonos, where she will be joined by 2014 Eurovision winner and fellow Jean Paul Gaultier muse Conchita Wurst.
Anna Vissi was awarded her Honorary Doctorate of Arts for her contribution to music. Exciting as the title of 'Doctor' might be to Anna, the Mykonos event will be about celebrating the artist's forty year career rather than her honorary doctorate. It will be taking place at the Greek island's waterfront Jackie O' Bar and, apart from Conchita Wurst, this year's Greek Eurovision entrants Freaky Fortune and RiskyKidd are also expected to join forces for the celebration. The event itself has been in the making for quite some time as, strictly speaking, Anna's fortieth anniversary in the music industry occurred last year. The singer herself revealed that its concept has evolved considerably since its inception and the plan now is to create a fun party for everyone.
The news of Anna Vissi and Conchita Wurst performing on the same stage was met with enthusiasm by Eurovision fans. Anna achieved her best Eurovision placing in 1982 when she ranked 5th representing her native Cyprus with the song Mono I Agapi (Only Love), her other two attempts being in 1980 and 2006 representing Greece (13th and 9th place respectively). So what did the singer, often dubbed the Queen of Greek Pop, have to say about current Eurovision Queen, Conchita Wurst? 'I invited (…) Conchita, or Tom Neuwirth, who triumphed this year for many reasons at Eurovision (…) I don't know him personally, I just spoke to him on the phone because I got excited with the song and some (common) acquaintance of ours got us in touch. I wished him (i.e. Tom) good luck. He was very joyful and told me that he is a big fan,' said Anna, who stressed how delighted she was about this year's Eurovision winner accepting her invitation: 'it will be a pleasure for us to share the stage.'
Anna did not disclose who the 'acquaintance' was. However, a known common acquaintance of both divas is fashion designer Jean Paul Gaultier. Whether the individual who got the two artists in touch or not, Jean Paul has been a long associate of Anna; a Eurovision fan himself, he designed the frock the singer wore for the 2006 grand final performance of her entry Everything. Conchita on the other hand appears to be the French designer's latest muse: on the same day that Vissi was accepting her doctorate in Athens, Conchita was prestigiously taking to the runway for the closing of Gaultier's Couture Show in Paris. 'I met Conchita two years ago; she came to one of my couture shows,' the designer told British newspaper The Independent, adding: 'I loved her look and when I heard that she will represent Austria for the Eurovision Song Contest, I was delighted. When she won, I was crazy with joy.'

Whether in Gaultier or not, the Eurovision divas' joint performance on 26th July is eagerly anticipated by Eurovision enthusiasts in Greece and beyond!
You might also want to read: