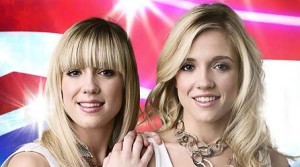 Francine and Nicola, the twins from BBC's Eurovision selection show, may not be as innocent and sweet as we may have first thought. In an interview with the Mirror they told of their X-factor experience, being arrested at a football match and their plans to live together forever, literally.
The girls fell foul of TV's Mr Nasty Simon Cowell at last year's X-factor auditions. He dismissed the duo as having the personalities of "two bananas" when they auditioned for the hit show. This obviously failed to deter them and now at least Andrew Lloyd Webber likes them.
But even more interesting tales were to be told. It transpires that at a football match two years ago away fans jeered the pair as they sang Slade's Cum on Feel The Noize. The halftime treat was for a Sheffield Wednesday match and it was seemingly annoying to the Barnsley fans. The twins were a little less than lady-like when they gave the Barnsley crowd the two fingers and swore at them over the microphone that they had just been singing into. Police didn't take kindly to their vengeance on the away mob and arrested the sisters and fined them £80.
The duo went on to talk about their feelings on Katie Price, from the 2005 UK national final. "We just love Jordan," said Francine adding that "for her to get up on stage like that – and sing in pink – was amazing", referencing her wardrobe choice for the Making your mind up final that year.
"I know all twins say this, but Fran really is my bestest bestest friend." They are undertaking the same course, at the same University, share the same friends, and have worked the same shifts at Morrisons since they started there. They even plan to live together once married, it's a simple plan, simply put, "Double wedding – and then we'll all go and live in a big house together".
Nicola also talked about her fears of not qualifying, "I've been having this horrible nightmare recently where we don't get picked for the final… so I run into Fran's room and she'll reassure me that everything's OK – we did get through last Saturday."
But they are under no illusion that they're universally liked, "we know that not everybody's going to like us. But we're fine with that."
Nicola and Francine are now living in a West London flat with 17-year-old Charlotte from the show.