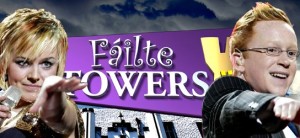 The brother and sister act are the latest contestants to be thrown out of the RTE celebrity show.  After finishing in the bottom three in the televote the duo had to face the judging panel where they were given the chance to explain why they should not be booted out. 
Thier plea fell on deaf ears though and they became the sixth and seventh evictees from the show.  Two of the three judges picked the pair to leave the hotel.
The show began nearly two weeks ago on August 2nd and has received a relatively lukewarm reception from Irish television viewers with some episodes garnering as little as 31% of the available audience.
Despite the low ratings the show has been received well by the media with nearly all reports being quite positive about RTE's latest celebrity effort.  While Donna and Joe have managed to relaunch their career to a certain extent many have been judged to have lost much of the respect they held.  Singer Don Baker, Presenter Liz O'Kane, Green Party politician Patricia McKenna and weather woman Evelyn Cusack have all done their public profile little good with embarrassing scenes during their time in the hotel.
Over the last two weeks Donna & Joe have managed to regain some popularity in Ireland.  After their Eurovision appearance in 2005 they were somewhat battered and bruised by an unforgiving Irish media.  Albeit a media who deigned to express absolutely concern about the pair, or their entry, before they set off for Kyiv.  The only reason the siblings were mentioned in any national media outlet over the following year was due to the fact that Donna came out as a lesbian.  By 2007 the pair had been reduced to performing on the pubs and clubs circuit in Britain. 
Their next foray into the public eye unsuprisingly led to them being nationally ridicule once again.  They were invited to sing a song from their new album on 'The Podge & Rodge show'.  Alarm bells should have been ringing in the McCaul's ears given the reputation of the puppet hosts to give their guests a fierce tongue lashing in pursuit of a laugh but Donna and Joe seemed blissfully unaware of the coming humiliation.  Just as Donna and Joe began to sing the producer cut to an ad break under the direction of Podge and Rodge and to the delight of the small studio audience.
It was seen as doubtful that the pair could regain any sort of career before they entered the show but it now looks like the stage is set for a possible comeback.  Any return to a music career will have to be quick though as they will soon fade from public attention again.