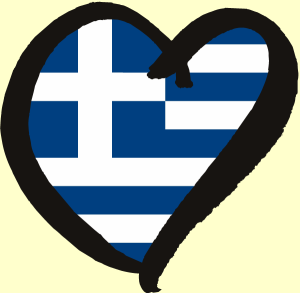 After a little chock yesterday where Sakis Rouvas collapsed during rehearsals Greece continues the preparations for the big show tonight where a combination of jury and televoting will decide which song Sakis will sing in Moscow. You are invited to be a part of the international jury.
If everything goes as planned Sakis who came third in the Eurovision Song Contest in 2004 with Shake It will perform three songs tonight:
Out of control (Music/lyrics by Dimitris Kontopoulos/Alexandra Zakka)
Right on time (Music/lyrics by Dimitris Kontopoulos/Craig Porteils, Cameron Giles-Webb)
This is our night (Music/lyrics by Dimitris Kontopoulos/Craig Porteils, Cameron Giles-Webb)

Via a combination of 60% televoting and 40% jury one song will be awarded as the winner of the 2009 Greek national final and will be the country's entry for the Eurovision Song Contest in May.
Are you one of those who think that other countries doesn't always pick the best song they have available? Greece is now for the first time offering foreign fans to vote in their national final. The voting takes place on Esctoday.com whose Greek editor will also announce the points from this international jury in the live show. There will be two voting rounds and the first have already started. Up until 19:00 CET tonight you can vote as a part of the back-up jury. If the website should go down the result from the back-up jury will be given to the Greek broadcaster, ERT. Should there be no technical problems this voting will have no influence. Instead the result of the second voting which opens at the same time as the voting window for the TV viewers in Greece during the live show tonight will count.
Three songs alone cannot make a big national final, but added the many artists from other countries that are joining the show tonight there is something to look forward to. The Greek population will get the opportunity to hold their song up against the ones representing Cyprus, Turkey, Belarus, Malta and the United Kingdom.
The Greek national final that takes place at 21:00 CET tonight will be broadcasted live on the official Eurovision Song Contest website, Eurovision.tv providing fans all over the world with a strong and solid web stream that so far has proven itself to be better than those provided by certain local broadcasters who is having problems dealing with the large amount of visitors.
Follow the link below to be a part of the international back-up jury.  You must be logged into Esctoday.com to cast your vote and multiply votes and Greek IP addresses will be filtered out.
Below you can also watch the three songs before you make up your mind about which of them you would want to see representing Greece in the 2009 Eurovision Song Contest.
Links
Be a part of the international jury for the Greek national final