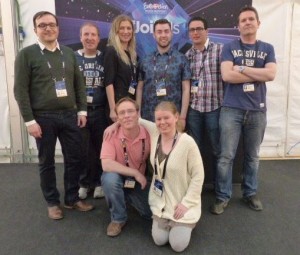 Can you write, conduct interviews, take photos or shoot some great videos, and do you want to be a part of the Eurovision Song Contest in Vienna? If yes, are looking forward to hear from you as we are about to set our team for the 2015 contest.
For the 2015 Eurovision Song Contest which will be held in Vienna, Austria, EuroVisionary is looking for writers, photographers and videographers. You will become a part of a well organised team, which includes people who has been going to the contest for years as well as ones about to experience it all for the first time.
We can offer you great exposure of your work, a working experience that will look good on your CV, friendly colleagues who are willing to help you whenever needed and of course a fantastic experience.
If you have never been going to the Eurovision Song Contest before, it is hard to know what to expect. Here is a list of things our team usually do during two such Eurovision weeks:
– Cover rehearsals in writing and with photos and videos
– Cover press conferences in writing and with photos and videos
– Cover parties in writing and with photos and videos
– Conduct interviews on video
We try to use people's skills in the best possible way so if you are a great photographer that will be your main task. If you have writing skills, but don't want to be in front of a camera, we won't ask you to conduct an interview. It is important for us that everyone on our team are pleased and comfortable in their position.
The positons are for volunteers and as such we don't expect you to be professionel either. Students and others looking for work experience are very welcome to apply. It will be an advantage if you can join the team beforehand, and also help out with national final coverage via a webstream or on location.
If you want to be a part of our team in Vienna please fill in our JoinUs formular. Remember to select "yes" to working with us in Vienna.