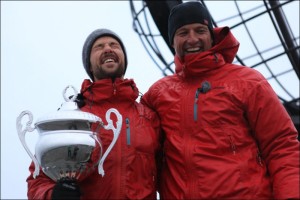 Crooner Didrik Solli Tangen has just completed one of the toughest reality shows on Norwegian TV, where he pipped trumpetist Ole Edvard Antonsen at the post to carry off the title.
TV viewers and Eurovision fans alike are used to seeing Didrik Solli Tangen dressed quite differently, usually in a dashing tuxedo, performing operatic numbers from the stage, or as has recently been the case, have grown accustomed to seeing him send himself up in a comedy show wearing practically nothing in certain scenes!
On the reality game show 71 Grader Nord however, we saw the outdoorsy, macho man come to the fore. The show involves contestants battling it out against the elements and overcoming practical and physical obstacles in order to be the first t6o make it from the far southernmost point in Norway, Lindenes to the most
northernly point, Nordkapp. One contestant is sent home for each episode and all participants are placed under extreme duress to complete the journey.
This year saw a special celebrity version of the popular series, shown on Norwegian channel TV Norge. A total of 10 contestants took part in the show, some of whom will be familiar to Melodi Grand Prix fans.  Former entrant Trine Rein (MGP 2006 and 2007) was among the line up as well as Phung Hang (2006). Whereas Solli Tangen's performance of My Heart is Yours ended in fiasco in Oslo back in 2010, his participation in the reality show was a huge personal triumph, which he described as "Almost as awesome as winning Melodi Grand Prix"!
The actual show was recorded 6 months ago, so it was a relieved Solli Tangen who was finally able to let the cat out of the bag and talk about the result : "This was just as awesome as winning Melodi Grand Prix, in fact even moreso, because this was physically gruelling. I was unbelievably cold and tired, my body was completely wrecked." The star went on to accredit his victory to the fact that he managed to remain calm and keep his mind focused. Solli Tangen was overjoyed to be reunited with his girlfriend, Benedicte Årving following the completion of the show. You have to ake the rough with the smooth, and that's just what Solli Tangen will do when he embarks on his prize trip on a later date, which reputedly cost the TV channel NOK 200,000 (EUR 25,000).