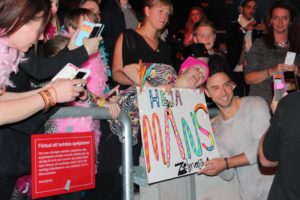 While Måns Zelmerlöw is celebrating his victory in Sweden which is just a couple of hours old, the song is already met with accusations of being a copy of a David Guetta song from last summer. The similarities are clear enough, but it is yet to early to say what will come of this.
In the videos below you find first Måns Zelmerlöw and his song Heroes which won the Swedish final just a few hours ago. After that you can then compare to a video of the song Lovers On The Sun, which David Guetta feat. Sam Martin released last summer.
At the moment fans are being witty on social media presenting Lovers On The Sun as the Swedish song for Eurovision this year, but it is too early yet to conclude whether or not the Swedish broadcaster, SVT, or EBU also will find the two songs too similar.