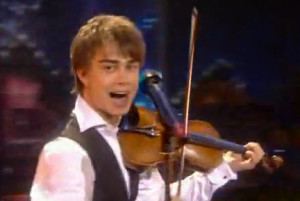 Young Alexander Rybak managed to persuade viewers, pundits and sceptics alike when sweeping to victory in 2009. Would he be able to have the same effect on his examiners when he graduated this week from the Barratt Due Institute of Music?
Alexander Rybak became a name on practically every Norwegian's lips following his landslide win in Moscow with Fairytale in 2009. Commercial success followed and some have been quick to criticise the young star for cashing in and milking his success for all it was worth and by abandoning his classical background in the process. Late last week however, Rybak came under scrutiny from the examining board at the Barratt Due Institute of Music, where he had to take his final exam, holding for all intents and purposes a mini concert which picky music academics were to grade him on. How did he fare? Well, read on to find out!
His final exam took place in the concert hall of the institute which, on all accounts, was packed to the rafters and then some. The whole seance took just under an hour and the multitalented musician chose to open his practical examination with works by both Bach and Schubert before he proceeded on to a slightly lighter repetoire featuring numbers such as Claire De Lune by Débussy. He waS accompanied by pianist Gunnar Flagstad and both managed to combine their artistic flair to create a fantastic atmopshere in the hall. Rybak almost ruined his chances precisely while playing Claire De Lune, because it's what he had looked forward to playing the most. Nerves and adrenalin kicked in and things were at one point looking decidely shaky for the former Eurovision winner. In an interview given to NRK, he revealed that: "It's just so typical. What you think will give you a hard time turns out to be a piece of cake, because you've rehearsed so much. But the things you look forward to the most can often bring on both nerves and too much adrenalin. During the quiter pieces, I had to tell myself "Alex, get a grip, don't lose your head!""
The talented violinist really had the crowds eating out of this hand by the final number, weaving extracts from ABBA as well as Great Balls of Fire by Jerry Lee Lewis into another classical piece. On mixing musical styles he went on to comment "The biggest responsibility I have resting on my shoulders is to mix and introduce musical styles and cultures. My concerts need to reflect a great variety of tastes. That's why I was so much looking forward to this concert, as it was practically a purely classical concert", he told NRK.
Rybak also managed to sneak in one of his self composed pieces into the concert, namely Dagdrøm (Daydream). Dedicated Rybak must have done something right and pressed all the right buttons, as he was awarded a straight A grade by the examiners. Whether or not their decision was coloured by his track record (winning Eurovision included) is uncertain, but it must be reassuring for young Rybak to finally get the thumbs up and stamp of approval from those with a more musically trained and critical eye too.