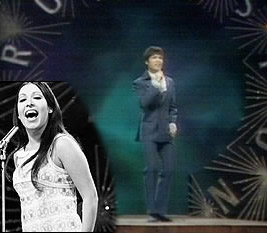 Spanish TV claims that it wasn't actually true when the country won the Eurovision Song Contest in 1968. Apparently General Franco stole the victory from the United Kingdom's Cliff Richard who was beaten with just one point.
A documentary shown on Spanish TV Sunday concludes that "corrupts officials working for state-run television travelled across Europe rigging votes". This should apparently have happen because General Franco wanted to improve Spain's international reputation.
Spain won the 1968 Eurovision Song Contest with the song La, la, la sung by Massiel while Cliff Richard finished second with his Congratulations. Afterwards it turned out that the United Kingdom entry gained most, as it became a massive hit selling more than one million copies.
Congratulations- songwriter Phil Coulter says to BBC: "There was certainly a sense that something odd had gone on, but maybe it was just the disappointment of coming so close to winning for the second time, back to back". When thinking back of the '68 contest he adds: "We had already been taken out of our seats at the Royal Albert Hall to come backstage because everyone was convinced we were home and then I believe that that last country to vote maybe gave 11 to Spain and none to us, thereby snatching the victory for Spain by one vote".
He is happy that the claims about fraud weren't made in the weeks after the Contest, but he thinks it is hilarious to bring it up now. The success for Congratulations proves to him that the real winner was the United Kingdom, but he doesn't need accusations about rigging votes to show that.
Together with Bill Martin Phil Coulter has also written Puppet on a String that came first for United Kingdom's Sandie Shaw in 1967.