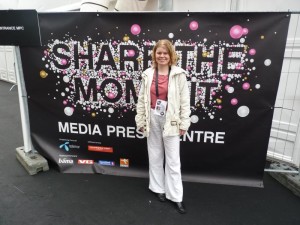 Eurovision Song Contest 2010 kicked off yesterday with the first 8 countries to rehearse for the first time on this stage and to meet an hungry press. Euroclub opened last night and I learned to pronounce the name of a certain Icelandic volcano – in Icelandic.
Everyone agrees that this year is more open that previous years – in more than one way. The security isn't as tight as it was in Belgrade and Moscow and none of the 39 participants are sure to win like Alexander Rybak was it last year. Yes, some countries are being mentioned more than other times when you ask for where we will be going next year, but it really is a widespread from Turkey over Germany to Denmark.
At every press conference the participants are being asked which songs they like this year. So far it is countries like Germany, Serbia, Norway and Lithuania who is being mentioned the most. This question is one of the standard ones which the host of the press conferences asks all the participants. Another one, which I am really tired of by now, is the one asking "so which country do you think you will get the most votes from?". Is it any surprise that none of them points at a country far away from their own one? Really, is it needed to remind us of the sensitive issue with neighbour voting every half hour? 
Another obligatorical thing at the press conferences in this first round is a little quiz. It is 10 questions about Norway, but some of the delegations only gets 7, 8 or 9 questions. One of the questions is to name a Norwegian Eurovision Song Contest winner. So far only Alexander Rybak has been mentioned. If Didrik, the Norwegian participant, is going to mention him as well I am gonna scream! While questions like if Norway has a president or a prime minister can only give one correct answer the question about which countries Norway border to is more difficult. Basically it is correct no matter if you mention Denmark or not!
In the evening on this first day Euroclub also opened and several contestants including Moldova and Bosnia & Herzegovina. I have to admit though that I left rather early as the music was terrible. What ever happened to Euroclub only playing Eurovision music? Instead we went back to our hotel where many of the delegations are staying. In the lobby we had a chat to the Icelandic HoD. Can anyone be surprised that quite a lot of that chat had to do with a certain volcano? Well, I learned how to pronounce the name of that volcano who have caused many to be nervous about it all the participants would be able to make it to Norway. Well, it appears like most will make it. Yesterday only Ireland and the United Kingdom was in danger of not making it, but Tuesday morning the news appeared that Ireland took a ferry to England and managed to get on a plane from Heathrow which has opened up again.
How is Oslo? Well the number one thing here people mention about Oslo is the rain. Both Saturday and Sunday didn't offer anything else weather-wise than just rain, rain and even more rain. With the toilet building being outside you can't help but getting quite wet when you have to go. Otherwise the thing I have noticed the most here is the many tunnels. We don't have mountains in Denmark so roads going through a mountain is something unusually for me. It feels like we are driving from one tunnel to another here. Quite fascinating though.