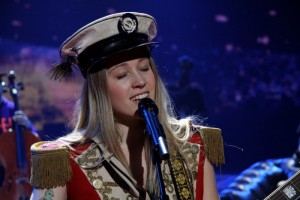 Soluna Samay and the rest of the Danish lineup had their first rehearsal on stage in Baku, and almost everything was the same as in the Danish national final.
Not much has changed since Soluna Samay won the national final in Denmark in January. I guess the Danes go by the saying why fix it, if it ain't broke.
However, some things have been adjusted. Most notable is the lyrics. Instead of singing "Sahara miss the rain", which is grammatically wrong, she now sings "Sahara misses rain".
Another change is the lineup. One of the backing singers from the Danish final has been replaced, and the new one brought a cello. This gives the performance a bit more intimacy.
The back drop is very similar too. It has the same golden colours and atmosphere. You get the feeling that summer is over and fall has taken over.
Soluna's clothes are the same as we saw it in Denmark, and it underlines Soluna's appearance as a street singer.
Soluna did a flawless rehearsal, and proved she's got a powerful voice.
Watch her rehearsal in the video below.