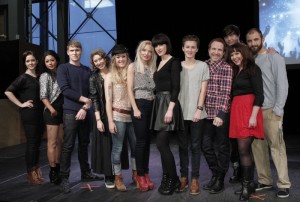 The nine songs that will compete in the Danish national final on Saturday are now available online in 30 seconds clips – and during the day and tomorrow they will get airplay in its full length. On Wednesday the CD will hit the stores.
Due to the CD's already being printed it was not possible to replace the song number 2, Nowhere, that got disqualified few days after being presented at the press conference. That song is therefore also to be found on the CD that is available to buy from Wednesday the 18th.
Today 30 seconds clips from the remaining 9 songs were published on DR's website. During today and tomorrow radio channel P4 will play all the songs in its full length.
On Saturday the following 9 songs will compete to represent Denmark at the 2012 Eurovision Song Contest:
Song nr. 1: Jesper – Take Our Hearts
Song nr. 3: Aya – Best Thing I Got
Song nr. 4: Kenneth Potempa – Reach For the Sky
Song nr. 5: Ditte Marie – Overflow
Song nr. 6: Philip Halloun & Emelia – Baby Love Me
Song nr. 7: Suriya – Forever I B Young
Song nr. 8: Karen Viuff – Universe 
Song nr. 9: Soluna Samay – Should've Known Better
Song nr. 10: Christian Brøns & Patrik Isaksson – Venter
As it can be seen from the list then Danish broadcaster, DR, decided to stick to the original start numbers – and then just simply take out song nr. 2 as that got hit by the disqualification.
The 2012 Dansk Melodi Grand Prix takes place on Saturday the 21st of January, live from Aalborg, Denmark.