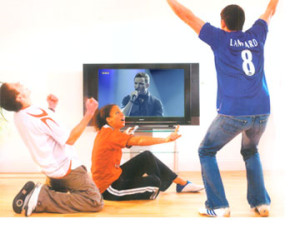 The 2009 Dansk Melodi Grand Prix became a big success for DR. The program was seen by more than 1.7 million which is equal to a market share of 71%. It is more than 400.000 more than last year and is the highest viewing figures for a Danish final since 2005.
Compared to other countries the Danish viewing figures are traditionally always quite high, but they have been going down the past couple of years. The big effort DR put into the show with well known popular names competing has paid off. The broadcaster's direct words about a second place in Moscow not being good enough might also have tricked a few more people to watch it. Fact is that the viewing figures went up from a bit over 1.3 million to 1.717.000 in just one year.
The 1.7 million means that 71% of everyone watching TV those hours Saturday evening tuned in to the Dansk Melodi Grand Prix and saw Brinck winning the honour of representing the country in Moscow with the song Believe Again.
The Danish viewing figures for the last five years:
2009: 1.717.000
2008: 1.308.000
2007: 1.492.000
2006: 1.652.000
2005: 1.918.000
As Denmark only has a population of 5.2 million in total such viewing figures are seen as being extremely high.