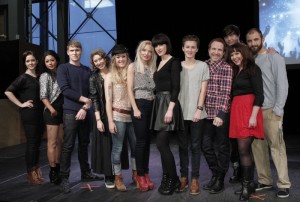 Last night the official welcome reception in relation to the 2012 Dansk Melodi Grand Prix took place. Earlier the same day the 9 participating acts had been on stage rehearsing for the first time, which gave them something to talk about when we caught up with them in the evening.
Last Saturday the Dansk Melodi Grand Prix week kicked off with the performance of an 1100 people big choir singing three Danish Eurovision Song Contest entries – and a koncert by Kirsten & Søren, who got to represent Denmark at this international competition a total of three times accieving high placements, but also an iconic status among fans.
Thursday evening all the artist had arrived to Aalborg and completed their first rehearsal on stage in Gigantium – and then it was time for the official welcome reception that took place in Europahallen in Aalborg Kongres & Kultur Center.
It all started with the youth club Fristedet performing two songs; one of them was specially written for this event and titledHallo, Det' Aalborg Der Kalder (Hello, It's Aalborg calling). That song you can hear on our youtube channel.
Susanne Kabel, Aalborg Kongres & Kultur Center's PR Manager, offered everyone welcome to Aalborg and DR's entertainment boss Jan Lagerman Lundme explained why DR likes Aalborg so much as a host city: "If you want a chair to be moved, they just do it here. In Copenhagen people would be discussing it for quite a while."
Afterwards Heidi Willer Band entertained all the guests, while the participants got the chance to get to know each other a bit better and to meet up with the press, who will be covering their attempts to win the Dansk Melodi Grand Prix tomorrow evening – and the bonus of representing Denmark at the 2012 Eurovision Song Contest.
EuroVisionary caught up with three of the participants and the female host, Louise Wolff.
In the videos below you can find out just how great the relationship is between Philip Halloun and his Finnish singing partner Emelia and their plans for performing naked! You can also hear Aya talks about why she isn't so nervous, but calm and relaxed on stage. Christian Brøns talks about his dramatic escape from the Big Brother house and his working relationship to Swedish singer Patrik Isaksson and then host, Louise Wolff, reveals herself as a big Eurovision fan.  
We appologise for the loud background music on the videos and EuroVisionary are working on reducing this to make the speach stands clearer, but as they can be heard with a good headset we thought you shouldn't be cheated out missing these before the Danish final tomorrow evening.