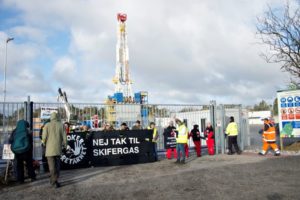 In North Jutland, Denmark a Greenpeace occupation is currently taking place. 21 activists are involved in the operation to stop Denmark's first search for shale gas, and one of them is a 64 year old well known actress and former national finalist. 
In the night between Sunday and Monday Greenpeace occupied an rig in Dybvad, North Jutland in Denmark. At this location the first search for shale gas was to start soon. It is now being delayed as 21 activists crossed the fences and at least four of them are to be found sitting in the derrick, reported by Danish Newspaper, BT. Later a local North Jutland media, Nordjyske.dk, claims that there are 16 in the tower and the rest on the ground.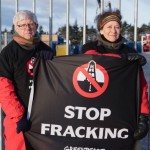 One of the 21 activists are Ulla Henningsen. She is an actress and jazz singer who took part in the 1995 Danish final, Musik Event 95′ where she came third with the song Du Kysser Som En Drøm. Greenpeacedk shows a picture on their Twitter profile from the occupation with Ulla and another activist wearing "Stop Fracking" t-shirts.
Ulla Henningsen biggest successes are from the very popular TV serie Matador and from her role as Liva Weel in Kald Mig Liva. She is educated as an actress from 1973 and is well known in Denmark where she also won several honorary prices. 
To BT she confirmed that she took part in the night and morning, but went home after four hours as she currently plays at Aalborg Theatre, 35 minutes drive away.
She says about her part in the action: "I live close to the place and have been collecting signatures and campaigning locally for two years. Therefore it was obvious to accept when Greenpeace asked if I wanted to take part". She continues: "I am involved because this method is wrong. It is very short sided as it can affect our ground water and the lovely nature here in North Jutland. There are lots of sneaky things going on which Mr. and Mrs. Denmark doesn't know about. Unfortunately I think that our prime minister and the other politicians only care about economics in this situation".
Greenpeace themselves also say that they placed a banner at the top of the derrick with the text "Stop Fracking". Fracking is the name of the method used to extract nature gas and oil. It is a controversial process where the shale layer is being blown apart by a mixture of water, sand and chemicals. The high pressure breaks it open and the sand makes it unable to close again once the pressure is removed. Enviromental organisations all over the world have been protesting against this method for years as they believe it is a treat to ground water and a damage to the animal life and agriculture in the area.
It's the French company Total who is behind the shale gas drilling Denmark after they in 2010 won the right to do so. They say that they live up to all the rules in relation to it. The police is currently present at the drill in Dybvad. They say to Nordjyske.dk that they for security reasons won't take any actions at the moment. They are keeping an eye on the situation to make sure no-one gets injuried. 
It is also reported that the activists in the tower are trained climbers and brought food for severals days with them.